When I first bought this, I thought is was a primer and just picked up any old container. When I realized it was a foundation, I went back and got my right shade, which is 516 Nude Beige.
For reference I have oily, acne prone skin, acne scars on face, large pores on upper cheeks and nose.
MUFE
125, MAC NC 25, leaning more towards warm tone skin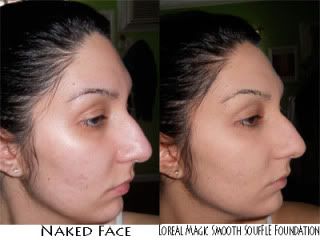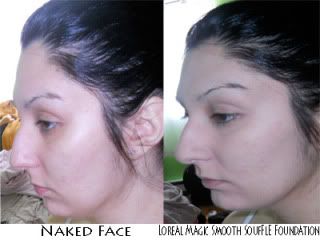 Review
Formula:
This is an odd formula. It looks and feels like a primer. It is very light and airy to the touch and it gives me a great matte finish. Also since it looks and feels like a primer, there is no need for a primer, this foundation is like a primer + foundation all in one and I really love that concept. I have heard that people with drier skin than me have complaints about this foundation and that they do not like formula because it feels greasy on them..but I can not comment on that since I NEVER have dry skin :P
Ease of Use:
This is super easy to use. I just use my finger to put it on and it applies great with that technique alone, so I have not tried anything else with it.
Smell:
It has no smell to it. No perfume or baby powder smell.
Everyday Use:
Yes, I think it is. I have been wearing this to work most days because I can just slap it on my face and be done with it. It is so simple and easy to achieve great coverage with a matte face.
Good for Photo's:
hmmm...not so much...it gives you a really flat matte look in pictures. It would take quite a bit of work for this foundation to give you beautiful glowy , light reflective skin
Packaging:
This foundation comes in big square container with a pink lid. It makes sense to have it in a container due to the formula but I hate how BIG it is and I think it is unnecessary to have the container be so large. I need that room for more makeup...JEEZE!!!
Texture:
The formula feels amazing on my skin. It goes on so smooth and feels so silky, yet leaves me with a great matte finish. I also want to add that after I wear this foundation and wash my face before I go to bed, my face feels amazingly soft and somehow looks better..idk if this would happen to everyone but I was really impressed with that and because of that I tend to wear this foundation every time I work because I am now convinced it will improve my skin
Color Selection:
There are a TON of colors to choose from
Coverage:
I think it has great coverage. As you can see from the pics, it covered up my acne scars pretty darn well and that took little effort to do. This foundation is very buildable as well
Price:
$15.99 A tad pricey for a drugstore foundation, but you can always find coupons for this or find it on sale at any drugstore
Where is it available:
Most drugstores and chain stores carry this. I have seen it at Walmart, Walgreens, and CVS. If you want to buy it on-line, I saw some colors available at Allcosmeticwholesale.com
Quick Run Down
Pros: Great Coverage, no need for a primer, easy application, wonderful matte finish, light weight feel, makes my skin feel soft after I wash my wash my face, can always get a deal on it
Cons: Not very camera friendly, packaging, my not work for all skin types (especially dry)