So today is my first day of my last year in nursing school..YAY!! Once school starts for me I feel like summer is over :(
Oh well...I am alway nervous on the first day..even though I have had this instructer before for my cliicals..I hope it goes well!!
These were the products I found I either reached for
A LOT
or recently bought and fell in
LOVE
with for the month of August
CHECK EM OUT!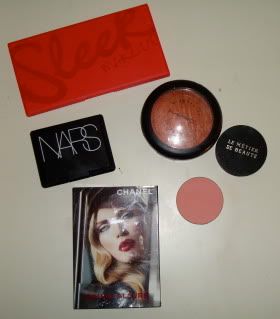 PRODUCTS
Sleek Circus Palette

-I have used this in a a lot of my looks..I luv this palette!! My review and swatches can be found here.
MAC Stereo Rose
MSF
- YES! sorry ladies..but this MSF does live up to the hype! I was amazed that I even got this. I ordered it 6 min after if was release on-line (BEFORE temptalia even announced it) and I was still afraid that I wasn't going to get it, but I did!! It gives this amazing glow and I have been using it a a lot with this next product.
My review and swatches can be found here.
MAC Instant Chic Blush
- This blush came out with the pret-a-paper collection and it is a gorgeous peachy blush that looks amazing paired with Stereo Rose MSF
Le Metier De Beaute Blush in Echo
- This was such a splurge!! This little baby was $30!! I have never spent that much on such a tiny blush, BUT once I saw the review and swatches on Tempataila (see them here) I HAD to have it AND I am glad I did! This blush it buttery smooth and the color is gorgeous!! It is what I wished NARS Deep throat would have been for me. This is truly one of my favorite blushes.
NARS Rajasthan Duo
- I just got this duo and wore it in my wedding look (here) This is an amazing duo, I love the colors and it is perfect for day wear, night wear, or those day you have no idea what you want to do with your makeup.
CHANEL DRAGON- This is the most perfect color
RED
I have EVER seen. I bought a mini tube on eBay for $18, since the full tube is $34. I didn't want to spend $34 on it without even knowing if I would like the color on me. These mini tubes were overstocks of gifts with purchase (GWP), so I knew it was real, plus the the wear (it lasts for hours, through eating and everything, I never reapplied!) and vibrancy of the color let me know that I did not have a fake..LOL..I also wore this in my wedding look as well and I plan on wearing it a lot more and possibly buying the full tube!!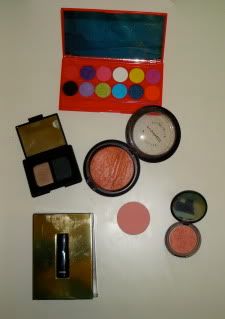 What were your favorites for the month??