Happy Friday Ladies!! I am sorry this is not a makeup or beauty related post, but I promise that I have a TON of those coming!
As some of you may have read in my previous
Back to School
post, I am going into my second and final year of nursing school. It has been quite a journey for me, and I know that some of you are also going back to school soon or may be thinking about, so I asked you if anyone had any questions about nursing school or just school in general. I thought this might be a helpful post and one that gives you a little in sight into who I am as well. So here are the questions that some of you have asked me and I threw in some questions that others have asked me on MUA and MUG.
I also added in some nursing school humor and pics to help break up the reading too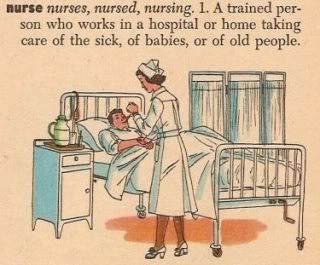 Why nursing? Why not stay in Finance?
This is a long answer, but I feel like you need hear the whole story as to why I wated to change careers.
When I was in high school I joined the Allied Health program, where you can become a C.N.A (certified nursing assistance) in high school, for free. I really liked the program and being an C.N.A but I didn't know if nursing was for me. After high school I went to my local community college with every intent of becoming a nurse (they have a great nursing program there), but I had only been a C.N.A a few months and still was not sure if this was for me, plus the pre-requisites were killing me (I am not a science fan at all!), so I started to think that maybe nursing was not for me. I was always really good at math and a thought with a major in Finance, I would get a really nice, stress free cushiony job (I was kinda right)
So I took as many classes as I could with the community college and then transferred to a four college to get my BS in Finance. While in college, I was still working as a C.N.A and just got a job at an Alzheimer nursing home. I fell in LOVE with the job. I loved my patients, co-workers and even the family members there. YES, the Alzheimer's disease is very difficult to deal with, but you learn how to be a form of support for the family members and the patients and while everyone was not always nice to me (we had some very picky family member, you can not blame them, but they did not always express their concerns nicely), people appreciated us at the end of the day and that was one of the BEST feeling in the world. A simple, "thank you for taking such good care of my mom" so made my week, because these residents meant A LOT to me.
My last year in college, I was lucky enough to receive a Finance Co-Op at Pratt and Whitney (a UTC company). I was excited to experience what the finance world had to offer me and I HATED it! I sat all day in front of the computer, doing (IMO) meaningless work, but if I wasn't taking care of a person, or tending to their needs, it seemed meaningless to me. Plus I encountered a lot of rude nasty people, who thought that because I was female, I was not going to get very far in this business. Now I knew not every place would be like this, but I knew most fiance jobs would be eight long hours in front of computer screen and missed my residents soo much.
That is when I knew nursing was for me, I graduated college Dec 2008 with a BS in Finance and started Nursing school, Jan 2009..yeah..I was not playing around. I was blessed to find a banking job that month as well, that was flexible with my schedule.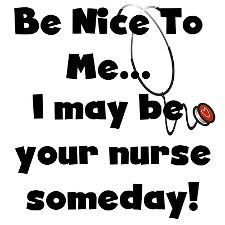 How long has it taken you to complete Nursing School?
Since I was already pre-nursing, and the hoped to to Finance, I had a lot of my pre-recs already completed and transferred over, like Bio, Chem, Sociology, Psychology, Math, English, and all my electives. All I had left was Anatomy and Physiology 1 and 2, Ethics, Religion and Microbiology. So in total, with summer and winter classes, nursing is going to take me three years, but it will vary by person and it is a sacrifice!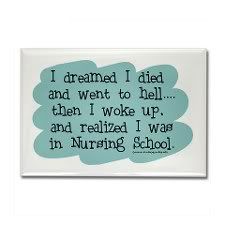 I'm in the Accounting field and I do like it. I've thought about going to Nursing school but feel too old to do it. I'm not sure if I still have the brain cells necessary for this. How hard is it?
I think you are never to old to start anything. There is an LPN at my job, who graduated at 62 with her LPN license from being a C.N.A for over 30 years. We also have men and women of all ages in my class. I think the oldest woman in there is 65. My instructor even became a nurse at 50 and now has here PHD in nursing.
Nursing school is hard, but college is hard. It takes up a lot of your time and you have to be available for two eight hour days of clinical and two lecture days. It a sacrifice, but it is only 2-3 years. Which is a short time if you look at in the grand scheme of things. I know a woman who worked doubles (7am-11:30pm!) every weekend for 2 years so that she could have the week off for school, but you do what you have to do.
Remember, you are being trained to be in charge of your patients health. You see them all the time and you are their advocate at all times. You adminster their medication and are 100% responsible for that, so yes, nursing school is hard, BUT BEYOND worth it in the end. If you are in nursing school, you HAVE to be in it for the right reasons.
This comment came from
hairandmakeupoverload
: i hated studying and i did accounting and there were so many books to buy especially those you can't buy second hand cos a new edition comes out every year :( but congrats to you for doing so much studying :p and love your blog so keep up the great stuff :D
Not really a question, but I did want address the book thing. All my books are USED, using the
Campusbook
website. This site compares prices of the all the books on web and finds you the cheapest price. I did this for both nursing and fiance. For nursing, almost all our books are used for the whole two years, you only have to buy one or two new books. For those books (I even did it for finance and my sis does this for biology, she is a bio major) I buy the edition under. It is soooo much cheaper, with the EXACT same info...seriously, the same info, word for word, only chapter numbers or page numbers my be different, but the info is the SAME! New editions may have new pictures or questions but the material is the same. How much biology has really changed between the two edition, I mean really, the heart is the heart, no matter what edition you read it from. For example, my maternity book brand new cost $110, I bought the edition under, used for $6..that is a pretty big difference in price and it still had the same info as the new edition because I compared it to my friend's book.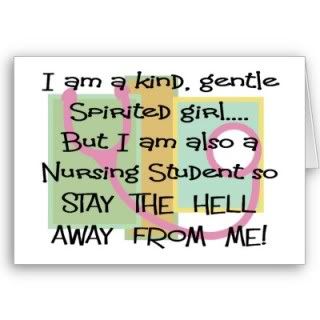 What is the difference between a Nurse and Physician's Assistant program? Why does one go for one profession over another- they both sound very similar to me.
As a nurse you can get you a certificate in nursing, associates degree, bachelor's degree, and master 's degree or become a nurse practitioner.
In CT, there is no difference in pay or responsibility (so I am told) between the certificate in nursing, associates degree, or bachelors degree, EXPECT that with a bachelors degree you can become a nurse manger and move up in corporate world of nursing. I also heard that some hospitals in NY are requiring all their nurses to get bachelor degrees now, but I am not sure how that is going.
If you get your masters or doctorates degree you can teach nursing
If you become a nurse practitioner you work under a doctor and you can see patients, diagnosis them and prescribe meds.
There is really no difference between a nurse practitioner and physician's assistant. My sister wants to be either one of them and she has done some research on it. All it really comes down to is what school and program works out best for you.
There is a HUGE difference between an actual nurse and physician assistant and/or nurse practitioner because nurses
can not
prescribe meds, or see and diagnose a patient. Nurses are there to teach, handle meds, document on the patient and take care of the patient. When you are a nurse, you know and see the patient way more than any DR. You are truly the patient's advocate because you see them everyday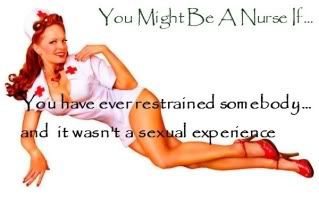 I noticed that you are working at a Bank and studying to be a Nurse. I can't seem to find any program that allows one to attend Nursing school at night. All 3 schools I looked at have this Accelerated Program where you finish all requirements in 12 months or 15 months, but you have to attend during the day. They don't even mention anything about part-time classes. How did you find your school?
My school has a night program, but it is not accelerated. The night program takes 3 years vs. the 2 years with the day program. I am lucky enough to have a job at the moment that is flexible with me going to school. So I am going to school during the day and go to work right after school. If you want to go to nursing school, you really have to bend everything to make it fit nursing school. They really don't offer part time. I found this school by checking out and reading up on all types of school in CT. I visited and applied to several schools before I picked this one. Since I work in the same city as my the school, it just seemed like a better fit for me. I was also lucky to already have a BS in Finance, so some of my electives transferred over, so that was helpful too. If you already went to college, defiantly make sure that whatever college you are looking into will take transferred credits.
BTW..AEB means As Evidence By and R/t means related to :)
After taking the Exam and becoming certified as a RN, do you have to "specialize" ?
No, you do not have to "specialize" in anything. When you are in nursing school, you do a bunch of rotations, so you can get a feel for what each area is like. I have already done a maternity rotation, a OR one, GI, and an adult med surgical rotation (which is where you spend a lot of you time) This fall, we do psychology, and go to the psych ward, we also go to an oncology floor, have an ER experience and a burn unit.
Typically, once you pass with your RN, most place want you to have experience as a nurse on a adult med surg floor before they let you on any "specialized" floor (like maternity, nursery, peds), but that will vary by hospital and degree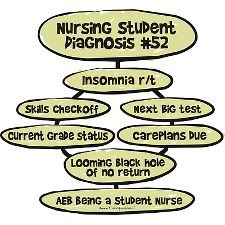 What are the salaries for RN's?
In CT it is between $60,000-$80,000 depending on where you work and the type of work you want. You can also get bonuses, but this salary varies by states.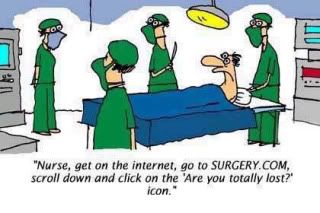 Does the reputation of the school make a difference? Does it matter, really, where I go?
No it doesn't matter to much where you go. One of the better known nursing schools here is a community college. Nursing schools have to all teach the same thing, so matter where you go, you have to learn the same stuff. Just make sure you check out the passing grades. In order to pass my nursing classes, you need an 80 and that is super stressful on me, but at the community college it is a 72..man I wish that was the case for me…lol A good reputation from a collage is good, but at the end of the day, you all have to know the same thing.
Price of tuition and acceptance into the nursing program is also something you should look into. The community college's tuition is much cheaper than the private school I go to, but the community college waiting list is a lot longer and they are much picky with who they pick to be accepted into their program because the tuition is cheaper. At my college, they are not as picky, but the waiting list was not nearly as long, and being a C.N.A really helped me get accepted into the program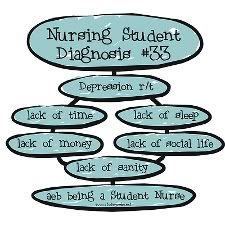 If you have any other question or comments, please feel free to ask me.
Also if you are a nurse, in nursing school, or just in college and you have some more info to add, please feel free. I know some things vary by state and I am certainly no expert, so if you know info on something else, please share.
I hope this was helpful to some people :)