I just received the Sugar Pill Burning Heart Quad. Mainly because I REALLY wanted poison plum, it is one of the most gorgeous shades of purple I have ever seen and with my disappointment in MAC's shock-a-holic
(you can read about it here)
, I needed something to redeem it.
I also wanted buttercup,after seeing xsparkage do a look with it (
you can see it here
, it the first pic in the post) and I really want to start doing more colorful looks, so I said "what the heck, let me get the quad!"
You can buy the quad at
Sugarpill.com
and it is $34 with $6 shipping. You can also buy the shadows separately for $12. They also sell amazing loose eyeshadow for $12, as well.
In the Burning Heart Quad, there are four brightly colored, extremely pigmented colors.
It includes four colors (descriptions are from Surgarpill.com)
Buttercup-The brightest bright matte yellow with awesome opaque coverage
Love+-Bright red with a semi-pearly sheen! Not for the faint-hearted
Poison Plum-Dramatic purple with a semi-pearly sheen
Flampoint-Vibrant matte orange
FIRST IMPRESSION
This is how is was shipped to me! I thought the box was adorable, with the sticker and the stamp of the sugarpill logo. I also like that the receipt was personalized and signed by Amy, the owner. I love a personal touch like that!
WHATS INSIDE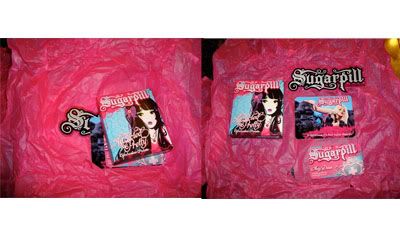 This is how it was packaged. I love the pink tissue paper and the extra sugarpill stickers and cards. I stick them on my mirror :)
THE BOX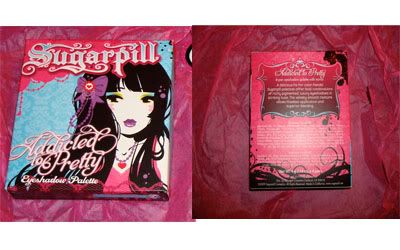 The box it was in is beautiful! I love the art work on it
THE PALETTE
I also love the art work on the palette case. It is a very sturdy, thick case with a magnetic closure and mirror
SWATCHES
BUTTERCUP
LOVE+
POISON PLUM luv luv luv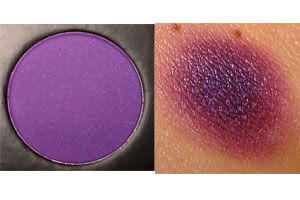 FLAMPOINT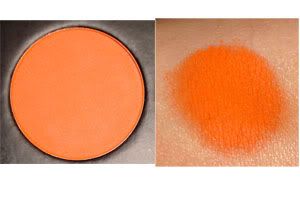 ALL TOGETHER
OVERALL
I think this palette is defiantly worth the money. I have not seen any shadow with this amazing pigmentation. The shadows are NOT soft or chalky. They go on very smoothly and are SUPER vibrant. These swatches were a breeze to do. I would even go as far as to say that some of these shade are more pigmented then some MAC shadows and defiantly better than any color in the 120 or 88 palette. Even though they are bright and pigmented you can still swipe the brush over you eye to get the full effect, you do not have to to pat or do any special ttechniques to get the color to show up. If you love color or need some good quality colors added to your collection, then this is sooo your palette
I can not wait to do looks with this palette! I hope I have some time soon to play with it soon!
What do you think of the palette?