Happy Friday ladies!!
WOW! I can't believe I have almost 50 followers!! thank you so much, I appreciate you all!! Hopefully this review will be helpful for those looking for a good set of travel brushes..now on to the review.....
I really needed a set of travel brushes. I only carry one with me and it is a really scratchy travel kabuki brush from essence of beauty and I was using it to touch up everything! So, I got these travel makeup brushes from the
Makeup Geek Store
. They were $17.99 for seven, four inch long makeup brushes
Included in the set is:
- Powder brush
- Blush Brush
- Eyeshadow Brush
- Crease Brush
- Angled Eyeliner/ Eyebrow Brush
- Lip Brush
- Spoole
The Brushes:
I also LOVE LOVE LOVE the case they come in, one side is for the brushes and the other side has a zipper on it to store your makeup. I have been putting my lipstick and blush of the day in there. It is perfect because everything is one spot.
The Case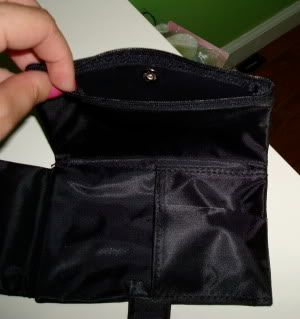 THE REVIEW
Shipping from Makeup geek was a little slow, but they ship out from CA and I live all the way across the country in CT, so sometimes it can take a little longer. It took about a week for my brush set to arrive.
Once I got them, I inspected them. They had no funny smell and the bristles stayed in the brush when I tugged on the hairs (I do this because I once got CS brush where the bristles fell right out of the handle!) So far I was happy, so I proceed to give them their first bath! As I was washing them, I was looking for shedding or any color dye that may run from them and I got nothing! So I was very pleased with that and I couldn't wait for them to dry so I could try them out.
Once dried, I decided to do my eye makeup with the eye brushes since I don't really re-apply my eyeshadow throughout the day. I have to say that they worked really well. The shadow brush pick up a good amount color and applied the eyeshadow really well and the crease brush really did a good job of applying color, however I did need my MAC 224 for blending. That crease brush is not good for an initial blending, but it is good for touch up blending (you know, when you get in car and notice one eye is blended more than other..yeah that kinda blending..LOL). The eyeliner brush was great and I love that it it angled. I used it both for my eyeliner and to fill in my brows.
So for my touch ups at work, I used the power brush to apply powder to my whole face. The brush is great and it is really soft. The only downside is, that for the first few uses I would get white hairs on my face from the brush, that really annoyed me, but now it does not do that.
The blush brush is perfect! It had no fallout and it applied my brush perfectly! It is my favorite brush in the kit!
Since these are mini brushes (four inches long) I thought I might have difficulty holding the brushes, but I didn't. The thickness, feel and curves of the handles really helped me hold on to the brush and it didn't feel weird or foreign to hold them.
AND all together now..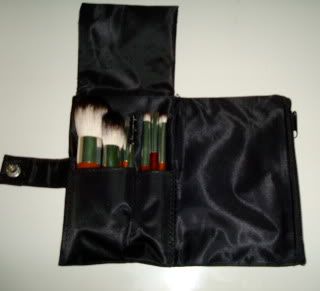 I defiantly recommend these brush, they are soft, feel great on the skin and work as they are expected to. HTH
anyone looking for a good travel brush kit and have a great weekend everyone!!