Hehe..I am trying to come up with names for all my looks..and for some reason Blueberry and Lime Pie was all I could think of!! LOL
So this is a colorful look I did with the sleek circus palette. I did it for a BBQ I went to. I am trying to get practise with colors and blending them
I hope you like it!!
EDIT: hehe..I was wondering if any UK beauty bloggers would be willing to do a CP for me? I looking for Illamasqua Faust Lipstick, they don't sell it a sephoria and shipping was insane from illamasqua.com. I will pay u via paypal for all cost or I will do a CP for u in exchange. I have feedback on MUG, MUA and ebay
PLMK in the comments if you can do it..thank u!!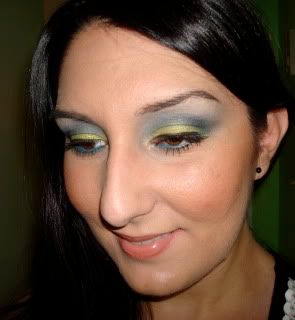 Face:
UD Pore Perfection Primer
Estee Lauder Maximum Cover Camouflage Makeup
MUFE HD 127
Nars Powder in Beach
Mac Select cover-up in NC 20 as an undereye concealer
UD All Nighter Spray
Cheeks:
Gingerly
Benefit Hoola Bronzer
Eyes:
UDPP in Eden
Sleek Circus Palette
Vanilla as a highlight
UD 24/liner in Electric
Lips:
Brave New Bronze
Frankly Fresh l/g