OK, I messed up my LEFT eyebrow ROYALLY when I was waxing it. I damn near took off the top of my eyebrow. I typically wax my eyebrows myself and then get them threaded once a month, to get a nice clean shape.
I waited about 2 weeks to see if my eyebrow hair would fix itself (I know I am impatient!! lol :P) BUT it didn't and I was worried because I really love my eyebrows.
Last time I went on
Cherryculture
I did see the NYX Grow Brow Serum in the new section, and it was $25! When I first saw it, I was like, "oh my $25 is expensive for NYX!" However, now that I felt like I needed it, $25 was NOTHING in the grand scheme of things, so I bought it!
BTW I also saw the NYX Grow Brow Serum at my local Ulta as well, for the same $25 price.
This serum transforms over plucked, thick or uneven brows to create an effortlessly fuller look. All-natural formulation features superior peptide and growth complexes combined with lavender oil, arginine, blotin, soy proteins, and ginko biloba to product stronger, thicker, fuller brows
From
Cherryculture
The overall claim is to have fuller, thicker eyebrows in 4-8 weeks

The packaging is nice. Very simple, nice slim bottle with a bristle application.


You apply the product everyday, morning and night. I would apply it in the morning after I got out of the shower and after I applied my acne medication and moisturizer. At night, I would do the same.
You apply it directly on the the eyebrow. It is very simple to use.
I will admit that my skin is sensitive and I am pleased to report that this formula DID NOT irritate my skin AT ALL. It did NOT make my skin itchy, dry, red or flaky. I had no reactions to the serum at all.
The serum is clear and had no smell to it. The gel that is applied is not goopy or too thin. It is similar consistency to glycerin (you know the glycerin you buy at the drug store to make your own mixing medium). Once I applied it, it took a minute or two to dry and then I did not feel it on my skin any more. It did not interfere with any eye or face makeup application at all.
THE RESULTS:
I started using the NYX Grow Brow Serum on March 4, 2011 and that is when the BEFORE pictures were taken. The AFTER pictures were taken on April 16, 2011. Which is about 6 weeks of use.


This is the "good" brow..lol
No big differance here, but the brow hair is thicker and darker, which I am really happy about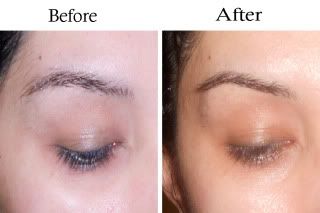 and the best for LAST..this was my messed up brow, the one I damn near waxed OFF!
Impressive! Right? I think the pictures speak for themselves! For $25, I HIGHLY recommend this product! You will not be let down!
Although I am very satisfied with my brows now, I am going to continue to use the product till I run out just because it was $25 and I am now use to putting it on every night.
Hope this review has helped you :D