I'm back with the NYX to MAC dupe series. I thought it would be fun to see if the dupes were really that close or just a waste of time and hopefully in the process, I could save you some time and money!
I could not wait to see the results of this one!!
SO...Can you tell the differance??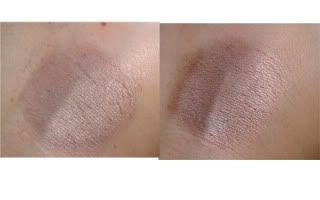 this one might be easy since so many people are satin taupe lovers
So..yeah..Nyx Iced Mocha is on the left and MAC Satin Taupe is on the right.
Satin Taupe is much more pigmented than Iced Mocha and IMO easier to work with. Iced Mocha is VERY soft, almost to soft for me. HOWEVER, they are pretty close in color, so I think it is a pretty close dupe colorwise, not identical, but close enough for me. It you want satin taupe and can not afford the $14.50 ($11 for pro pan) than this color is really a great dupe!
Side by side..IMO they look more identical in the pan than the swatch
NYX swatch on top, MAC on the bottom
SO..what do you think? Is it a good dupe?
My two favorite sites to buy NYX products are at Cherryculture.com and Nonpareilboutique.com