Hello Ladies! Happy Monday!
I have two reviews for you. I was wondering around CVS and I came across the Revlon Colorburst Lipgloss in Hot Pink Rose. When I saw it I thought it looked really similar to the MAC Dare to Wear, Gimmie that! lipglass, which I always wanted but never got, so sorry ladies, but I personally do not have a comparison swatch for you . However, I took the swatch from
Temptalia's Dare to Wear swatches
, so you can get an ideas for your self. I think the MAC's Gimmie that! lipglass and Revlon's Hot Pink Rose lipgloss look very similar and I think it is a great dupe for the lipgloss. What do you think?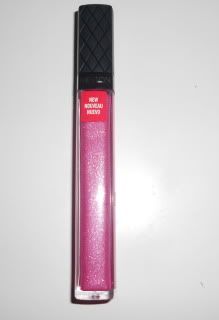 Standard doe foot applicator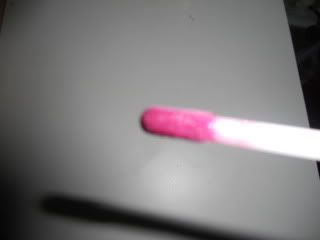 Revlon's Hot Pink Rose Swatch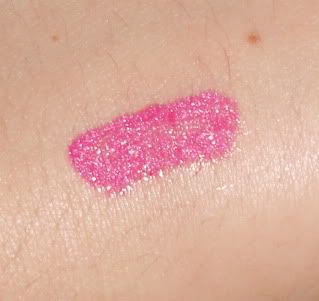 Temptalia's swatch of Mac's Gimmie that!
Revlon's Hot Pink Rose cost $9.00 and I am sure it can be found at any local drugstore. I love the texture of the lipgloss. It glides on smooth and is not sticky at all. The lipgloss has very fine particles of glitter in them which you can see but I cannot feel them on my lips at all. As you can see from the swatch and you will see in my FOTD, the lipgloss is very pigmented and can be worn without lipstick underneath. I really like this lipgloss A LOT!
My next review is the MAC Chromagraphic Pencil in NC15/NW20. This pencil is amazing! It is smooth and glides on my waterline line like butter. It is also long lasting. It stayed on my waterline all day and didn't budge one bit!!! I even laughed so hard that I cried yesterday and color was still on my waterline!! This is rare for me, usually I have to reapply the eyeliner to my waterline throughout the day, but not with this one. I swear I even had some left over on my waterline when I woke up this morning. YES! It is that long lasting..lol
I couldn't swatch it for you on my hand because it just blended right in, but here it is on my waterline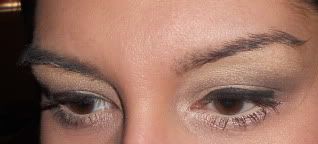 and here is the complete FOTD with the Revlon Hot Pink Rose
On my cheeks I am wearing MAC's dollymix blush, NARS albatros as a highlighter, and Benefit Hoola bronzer to contour