RANT
I got a GC to Sephoria for Christmas and I wanted to do a really silver metalic look for New Year's Eve, So I pick up the Illamasqua Metal Palette for $42. The colors are gorgeous, but they creased on me with 20 min of wearing it (and yes I was wearing UDPP)
The palette: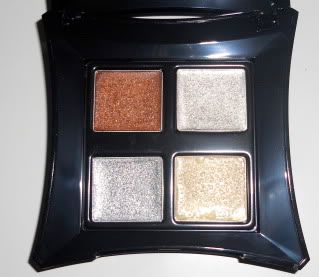 Here is the look I did, this pic was taken about 20 min after doing my makeup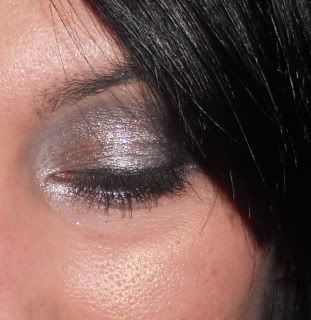 See the creasing already..after that I youtubed how I could fix it and one girl suggested I set it with translucent powder, so I set it with my MUFE HD powder and went to my dinner. The dinner was about three hours and when I came home, my eyeshadow was completely faded and pretty much none existent. I forgot to take a pic off it because I was so aggravated about the fact that a $42 palette would still crease and fade even after setting powder and primer, that I just washed it all off as soon as I got home
RAVE
So it was hard, but I returned the metal palette. I really wanted to love it, but I could not keep a $42 palette that creased on me. I ended up exchanging it for the Stila Color Wheel for $25!! Which was an amazing deal! You get 36 colors and each color is beautiful, vibrant and pigmented. I love the sleekness of the palette and the design. I like how it the colors go from lighter to darker, it is like it automatically sets up a look for you if you don't know what to wear that day.
It also comes with a bonus book of 15 different looks that you can put together with the palette! I love that and cannot wait to try them!
Here's the palette
Some swatches:
AND a pic from the color book that comes with it
AND it is still available at Sephoria for $25, hurry up and buy it already..LOL
Here is the link:
Stila Color Wheel at Sephoria