ME
: Oily, acne prone skin, acne scars on face, large pores on upper cheeks and nose. MUFE 125, MAC NC 25, leaning more towards warm tone skin
NYX HD Primer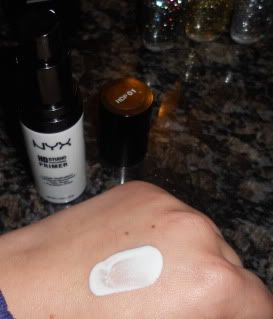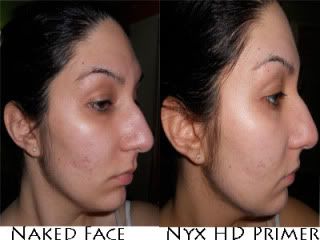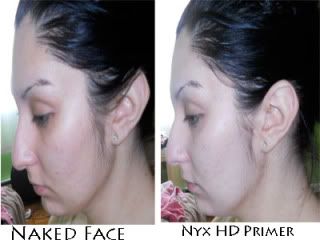 Review
Formula:
I will admit the formula is weird and unlike any primer I have used. It is white but applies colorless on to the skin. The primer is not thick at all, the formula is very thin and more on the watery side
Ease of Use:
It is very easy to use. I use one pump, and I just slap it on my face
Smell:
It is has a very strong baby powder smell to it, however the smell does not linger very long
Everyday Use:
I think this could be used everyday with no problems at all. It really helps to prime the skin and brighten it up
Good for Photo's:
I have only used this primer with NYX HD, but I will be testing it with other foundations to see if it will help to them an HD quality without being HD. However, I do think that this primer does help my skin appear more flawless in the photo's. As you can see in the before and after pics, my skin has this glow to it and appears brighter.
Packaging:
The primer comes in a bottle with a pump dispenser. I like that the pump dispenser can be unscrewed and the bottle can be reused.
Texture:
The formula feels smooth on the fingers and faces. It glides on the face like a lotion would and does not feel heavy on the skin
Color Selection:
There is only one color to this primer, which is white
Coverage:
It really does not hide or conceal anything, since there is no color to it. It make the face appear brighter and gives it a glow.
Price:
$14.00
Where is it available: Cherryculture, NYX cosmetics, nonpareilboutique
Overall:
This is a really good primer that really surprised. I honestly hate the baby powder smell to it, but the smell does go away. I like how the primer brightens my face up and softens the looks of my pores without feeling heavy or greasy on my oily skin.
NYX HD Foundation-
Shade Natural, applied with beauty blender, no concealer, just the primer and foundation
Review
Formula:
This has great coverage. It has medium coverage and is buildable if needed. It does not feel thick going on and blends great into the skin. As you can see in the pics, my skin tone has been evened out and it covered my acne scars pretty well
Ease of Use:
I used my beauty blender (which I use for all my foundations) to apply it and it went on great with no issue at all, so it is very easy to apply.
Smell:
It does have a very strong baby powder smell, but the smell goes away after application
Everyday Use:
This is PERFECT for everyday especially if you use MUFE HD everyday (like I do), it will defiantly save you some money.
Good for Photo's:
Absolutely! It gives you a great finish and helps diminishes imperfections
Packaging:
It has a foundation pump that can be unscrewed, so the bottle can be re-used. One pump does dispense to much foundation, but it is something you can get use to.
Texture:
It is a tad thicker than MUFE HD but way lighter than Revlon Color stay. I like the coverage of this, I don't need any concealer when I wear it.
Color Selection:
It is not very good right now and even this "natural" color was not a great match for me and it is hard to find out what a good match for you is because NYX is not sold in every store. I think I am going to buy the next color down, which is the soft beige and see if that is a better match, but I have a feeling it will be to light for me, but IDK
Where is it available:
Cherryculture, NYX cosmetics, nonpareilboutique
Overall:
I really like this foundation. IMO, it the perfect alternative to MUFE HD. It looks great in photo's and I love the coverage. The cost really makes this a great HD foundation, at $15.00 a pop, it is so affordable. I hope the pics really help you.
Makeup Forever HD Foundation
- Shade 125, applied with beauty blender, no primer or concealer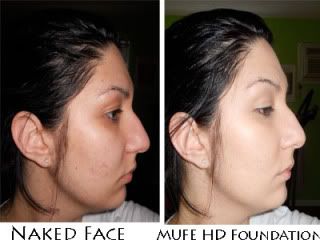 Review
Formula:
I love the MUFE HD formula. When I wear it, I feel like I am wearing nothing. It has light to medium coverage and can be buildable, but if you have areas where you need extra coverage, you will need concealer for that. However, as you can see in the pics, I have acne scars on my cheeks and it covered that pretty darn well ad really evened out my skin tone.
Ease of Use:
I apply it with my beauty blender and it goes on very smoothly onto all the creases on my face
Smell:
no annoying smell what so ever
Everyday Use:
It can be, but because of the price ($40) I really wanted an alternative to this because it is expensive
Good for Photo's:
Yes! The best IMO, I never use a primer with this foundation and it makes my face look great and it softens my fine lines
Packaging:
Standard pump bottle dispenser. The bottle can not re-used once the foundation has run out and the pump dispenser pumps out the perfect amount of foundation for the face.
Texture:
Light weight, it does not feel heavy or cakey
Color Selection:
MUFE has a TON of color selections for this foundation, you are bound to find your perfect match. If you can't, you can always return it at Sephoria and try a different color.
NYX HD v MUFE HD
I took the pics on different days and different times of days. I am not a pro with camera yet but hopefully you can tell the difference. NYX has more coverage than MUFE, but MUFE does brighten up the face more and is buildable to the coverage that you desire. Hopefully you can the difference from the pic below.
Bottles
Swatch Comparison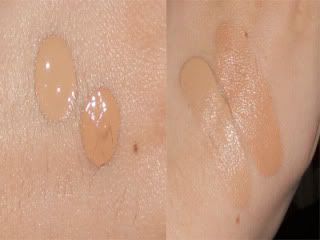 Swatches: MUFE shade 125 on the left, NYX shade natural on right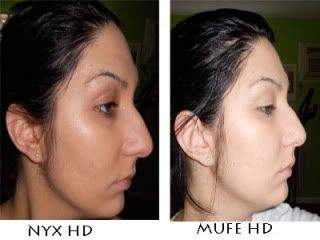 NYX HD Pros:
GREAT coverage, looks amazing in pics, softens lines, price, reusable bottle
NYX HD Cons:
Baby powder smell, color selection
MUFE Pros:
Gives the look of a f
lawless finish, excellent for photos, color selection
MUFE Cons:
If you need more coverage you will need a good concealer, price
What do I prefer?
I still prefer my MUFE HD, it is my HG and that is tough to beat, and 125 is seriously my perfect color, BUT I think NYX is a more everyday HD foundation due to the price and I will be using it more than my MUFE HD to save some money and make my MUFE HD last longer. I really do like the NYX HD and think it worth the money. I think you should give it shot, you may be surprised!