YUP!! I had a bunch of fun and found some really amazing foundations. I found some coupons in my local news paper and got the fountains, HIP eye shadows and the Loreal primer for a really good price. Don't forget you CAN use coupons on drug store make up and then combine that with the sales and you can really save a lot of money.
Loreal Souffle Foundation 516 Nude Beige, Wet n Wild Mega Last Matte Lipstick in just peachy, Wet n Wild eyeshadow palette in Spoiled Brat , Maybelline FIT foundation 125, HIP duo in Mystical, F21 Love and Beauty Nail polish
@ Walmart- Loreal primer, HIP duo in Precious and Romantic
@ Walmart- Treseme Dry Foam Shampoo, Herbal Essence Shampoo in deep clean and conditioner in hello hydration (I love mixing shampoo and conditioners, I feel like I get better results), Treseme Refreshing Spray, Goodie "Metal Free" Elastics (These are my HG elastics, you can NEVER have enough elastics)
These are the swatches of the HIP duo's. They are all from the new crystal shadow collection, which I really love. I like that they are shimmery without a ton of glitter and shimmer, it is not overwhelming at all. They are perfect for a clean soft look. I got all them with coupons so I believe they ended up being around $3 each. My favorite of the bunch is Mystical, that blue is gorgeous, it is so soft and pretty.
HIP Duo- Romantic
HIP Duo-Mystical
HIP Duo- Precious
Wet n Wild Mega Last Matte- Just Peachy For a $1.99, the color is perfect. These are a tad drying but the color last a good 2 hours on me which is great for the price.
This is what the Tresemme dry foaming shampoo looks like. I do not wash my hair everyday, so I like the idea of dry shampoo. I like the smell of this and it seems to work well. I need to use it more to give an accurate review on it.
Wet n Wild Trio- Spoiled Brat and wow..is this pigmentation insane for only $2.99!
Maybeline Fit 125. My shade with MUFE is actually 125 as well and this FIT foundation is a really great match for my skin. I wonder if they tried to match MUFE's shading on this. I would be interested to know if other people found that their FIT shade matched their MUFE shade as well. I liked this foundation and I will do a full review on this next week.
Loreal Magic Smooth Souffle 516 Nude Beige- OK I first thought this was a primer and just grabbed any container off the shelves. I had to return it when I realized it was a foundation and get the right color..lol AND WOW for this one! No need for a primer and the feel and texture of the is UNlike anything else I have ever felt on my face. I will do a full review of this as well in a post next week.
Loreal Studio Secrets Primer- This surprised me, but I like it. I bought because I had a coupon for it and ended up paying $7 for it. The primer is smooth and does not feel greasy on my skin, which is important to me because I have oily skin. It also does soften the look of my pores..full review coming soon
Lastly, I got the Remington Ceramic Pearl Infused Heated Clip Setter
at Walmart for $29- I love this! It is so easy to use. The rollers have a velvet feel to them which helps you roll up your hair in the curlers and keep it in place. It takes 90 sec to heat up and 5 min to hold the curl. I had mine in for about 15 min just because I was doing my makeup while they were in.
AND this is my hair after the curlers: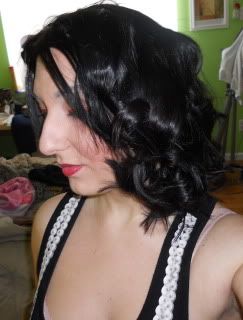 LOVE IT :D LOL!!
Hope you enjoyed this haul...next week will be my official foundation review week. I will review the Loreal Primer and foundation, Maybelline FIT and NYX HD primer and foundation with a MUFE comparision, so watch out for all that!