Here are my favorites from this past month. I cannot believe that January is even OVER..wow..that really flew by!
My first favorite is the Body Shop Banana Conditioner
This stuff make my hair so shiny and it makes it feel so good too. It doesn't make my hair feel to heavy or greasy. I just love it! Oh and the banana smell is not bad either :)
Burt Bee's Almond Milk Hand Creme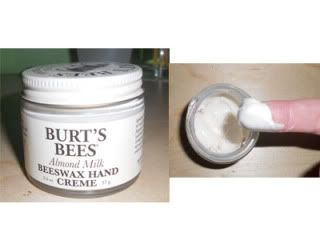 This hand creme saved my hands. With the really cold winters here in New England and me constantly washing my hand due to my job, my hand were REALLY dry and cracked and they hurt A LOT too! but this creme saved my hands and healed them. The texture is really smooth and bit oily, but I only wear it at night. The smell is amazing, but I love the smell of almonds. The creme is also great for your feet too, I put it on my feet at night with a pair of cotton sock and my dry heals are really soft in the morning.
MAC 130 and 188 brushes

Oh how I love these brushes and I am so sad I was without them for so long! The 188 is perfect for contouring and applying blush and the 130 is amazing at applying a highlighter or cream blush. I heard it is good for foundation too, but I have yet to try that yet.
Revlon Lipgloss in Sunset Peach and Hot Pink Rose
I really like these revlon lip glosses and I love these colors. I cannot wait to get some more colors next time they are on sale.
MAC Dalliance
This color is just gorgeous and so unique. It goes great with green and is a really nice highlighter too.
Body Shop Almond Body Butter
Yup! I said I like the smell of almonds :) I love the body shop body butter and this is the newest scent I have tried and I really love it. The body butter is very moisturizing and does not leave you feeling greasy after you apply it. It just melts right into your skin. Other scents that I love are the strawberry and coconut.
AND of course my F21 gold nail polish..I just love this color!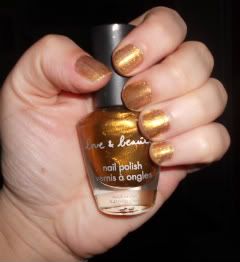 I wanted to give a special shout-out to my favorite hair clip. This hair clip has been with me for years and every time I think I lost, I freak out because I have no idea what to pull my side bang back with and then I always end up finding it. I use this clip every morning to pin back my hair as I am getting ready, so it is very important to me :) I think I bought it at F21 YEARS AGO and I surprised I still own it, but very happy that I do :P
Also a quick bonus..I have a favorite song to add as well. It is Taylor Swift, Innocent. I believed she preformed this at last years VMA, but I downloaded some of album and I really love it.
I really enjoy this song and it describes how I have been feeling lately and got me through this tough month with some of decisions I have made. I hope you like it.
That's my favorites for January! What do you think of them and what are your favorites?? I'd love to hear your thoughts :)
Take care and lets hope for a great Feburary!!