Hello everyone,
I just did my last haul :( I am officially going on a makeup diet. I have bought too much and I need to slim down. I am not going to stop buying makeup all together because when you go on a diet you just cut back and reduce your portion. You shouldn't deny yourself or you will just go crazy and go overboard one day. So I am going to put myself on a $25 a week budget. I feel that is fair enough.It can get me a few drugstore items or a one thing from MAC or Sephoria. I also decided that if that week I don't spend the $25 then I can spend $50 the next week and so on. That way I can save up too.
I also think that in the near future I will doing a blog sale to slim down some more, so keep your eye out for that :)
Next, due to me cutting back on makeup purchases I plan on doing "The Palette Project". This is something I came up with to force myself to use the existing makeup that I have. I keep neglecting it because everything I buy something new, I just use that till the next new thing comes along. So the rules to the "The Palette Project" are that every week, for one week I will use one palette to create each of my looks everyday and to take a picture of it to share it with you all. I have about 7 or 8 palettes,like the UD BOS 3, UD Deluxe palette, about 3 sleek palettes and more. This project should help me cut back on buying and help me focus on the makeup that I already have.I plan on starting this project next week and will put more info about the specifics in that post.
So with all that said, I have a few more hauls to post with stuff that I have already bought, but after that there will be less haul posts. Here are the hauls that are coming up:
- Cherry culture haul with NYX HD foundation and blush
- Hautelook Rockin Repulic haul
- Drug store haul with some amazing foundation finds
- And my last huge haul is from
allcosmeticswholesale.com
, I bought a bunch of UD liquid liner, which is my new obsession!
I plan on doing more FOTD's, NOTD's, reviews, make up tips and just plain ol life posts. I also plan on doing some before and after foundation post to really show you haw the foundation affects the look of my skin. My skin is far from perfect, I have large pores, acne scars and I get the occasional pimple, so I think my skin is the perfect skin for this type of review. You want see how the foundation covers your imperfections, so I plan on helping you with that.
My blog is titled "Weighing Down on Beauty" because I wanted my blog to focus on all things that are beautiful and exploring your own beauty INSIDE AND OUT, I don't want to solely focus on makeup all the time, so I will try to mix it up a bit more.
I will doing some posts on re-decoration my bathroom, some book reviews, rants, how I lost a few pounds, and whatever other ideas you all may have.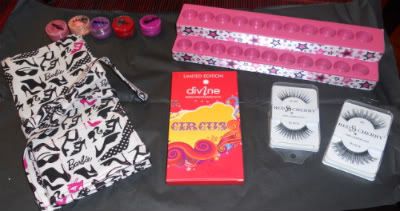 Lastly, my contest ends today!! Please enter if you have not done so already. I will announce the winner in about a week or so from today.I want to go through all the entries and make sure every body's entry followed the rules. I have read on few blogs that people have been entering with fraudulent accounts and blogs. That is not right at all. This contest is to thank my readers for their support and I want to make sure the prize goes to someone who really follows me. I think next time, I will do my give away much different from this one, but we will see how this goes.
Thank you to everyone who follows me, reads my posts and comments. I feel blessed to be able to share my passion with you and I am so glad I know people who are just as excited as I am about this.
To check out the contest
CLICK HERE AND GOOD LUCK!
Thanks for listening to all my rambles! Have a great weekend!