Happy Valentines Day everyone!! I know I said in a previous post that I do not celebrate with my boyfriend but the day still inspired me to go all out on RED and with a pretty, feminine soft look.
I also included a NOTD and my OOTD too..LMK what you ladies think and tell me what your plans are for tonight. WARNING: This is PIC heavy :D
A FULL breakdown of everything is below all this pic, I hope you like the look and you have a wonderful day!!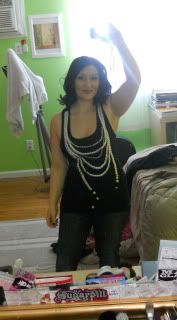 Face:
MAC Improvise on cheeks
MAC Gingerly to contour
UDPP in Eden
Sleek Original Palette
UD Gash liner on top lid
MAC I get no kick on waterline
STILA kajal bronze liner on out portion of waterline
Diorshow mascara
Salley Hanson Prep and Perfect
F21 Berry Lip liner
Revlon Crimson Lipstick
Remington Peal Hair Rollers
I love these hair rollers. I am completely hair stupid, my hair is super straight and it is very hard for my hair to hold a curl and this worked out so well for me. A full review will be coming soon.
OPI Shattered- LOVE the effect this gives the nails. I got it from
THIS
ebay seller for $12.00 but they has since up the price due to the demand and it is $19.99, that is a tad steep but this effect is so awesome!
China Glaze- Ruby Pumps
Top- F21
Jeans- H and M Loyal boot cut jeans, great jeans for women with hips and an ass!
and yes..I wore my uggs, CT still has a lot of ice and snow on the ground and I am NOT about to bust my ass..LOL

I TRULY APPRECIATE ALL MY READERS AND THIS BEAUTY BLOG COMMUNITY! I feel like I meet some some amazing people here and even some friends, thank you everyone for your conversation and kind words. Happy Valentines Day!!