I finally got around to it and I am doing my giveaway to celebrate having a 150 followers! I want to thank everyone who follows me and who takes the time to comment on my posts. I really enjoy makeup, it is an escape for me and I am so happy that I can share my passion with you.
SO, to really thank you all..this is what I am giving away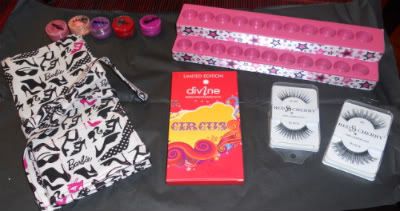 - 5 OCC lip tar samples
-Colors are: Momento, Cha-Cha, Katrina, NSFW, Hoochie
- Barbie print brush roll by Teresa Ellis, see my
REVIEW
- Lippie Holder by Teresa Ellis, it will hold 22 lippies!
- LE Sleek Circus Palette..I don't even think they sell this anymore, see the swatches
HERE
- Two Red Cherry lashes #138 and 5
RULES
- You
MUST
be a follower of my blog
- To enter, simply comment on this post and tell me what you would like to see more of on this blog
- For an additional entry, create a post on your blog about my giveaway, with a picture of the giveaway and a link back to this post. Also, make sure you leave your blog url in your comment, so I know you did it.
- For three entries, put this giveaway picture on the sidebar of your blog with a link back to this post and be sure to add your blog url to your comment
- Blogs created just for giveaways will not be included.
- The giveaway is open to everyone
- The contest will end three weeks from today, the winner will be chosen by random.org, and I will create a post to announce the winner
- Once the winner is announced, you will have two days to contact me and give me your address
GOOD LUCK! :)