I went to Kohl's and CVS during a break I had from work. I was very surprised to find that Kohl's has some really nice make-up. I really do not like Kohl's at all for clothes, so I never really browsed around there until now. I also found some GREAT 75% off finds at CVS. I absolutly LOVE when CVS has 75% off stickers..my eye is like a hawk for them!!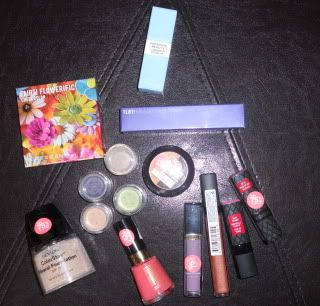 This is everything that I got!!!
I will review the Kohl's stuff first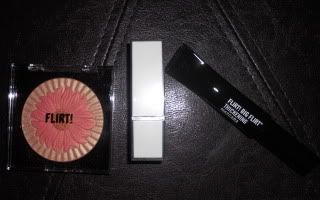 I got the flirt! flowerific blush, flirt! Big Flirt Thickening Mascara and American Beauty Lipstick
I really love this flirt! flowerific blush! The color is 02 Peach Blossom. First off..it is gorgeous looking. I love the flower design on it, BUT most importantly, when all the colors are blended togeher it is a really gorgeous, very pigmented, peachey-coral color. This is perfect for the summer. The price was $16 which I thought was a tad steep, but it so worth it for this color.
Next I got this really pretty matte nude color. It is from American Beauty and the color it 01 Honey Sweet. I really really HATE the packaging, it it bulky and really not needed, but I LOVE the color, so its okay
This lipstick really took me by surprise!! It was $12 and it is very moisterizering and long lasting. I like it more than some of my MAC lipsticks and it cost less. I am going back to pick up some more.
Swatch on hand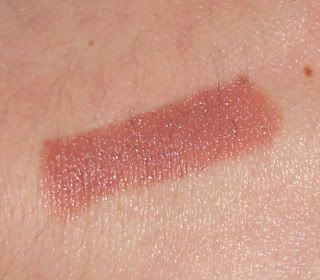 On lips:
The last thing I got from Kohl's was Flirt! Big Flirt Thickening Mascara on 05 Violet Vixen. This was $12 and I just really wanted a purple mascara. I tried it out and it is not really thickening at all, but I used it as a final coat with diorshow mascara and it did leave a really pretty purple coat.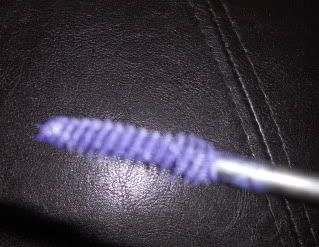 Now on to my CVS haul...yipee!!!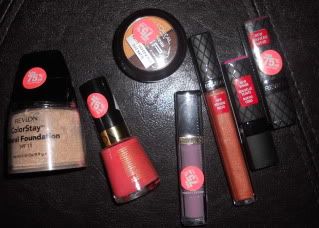 That beautiful coral nailpolish is 914 Tropical Tempation, that I got for 75% off.
I got four Revoln lip products and I love them all. No regrets here. I really like revlon lip products, they have a really good color selection and I find that the lipstick are very moisterizing and with a standard wear time. Here are the swatches: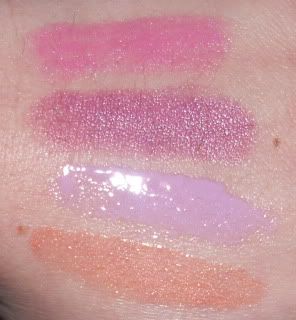 From top to bottom:
008 Candy Pink-This was regular price, CVS had a BOGO 50%
001 Lilac- This was 75%
200 Lilac lipgloss- 75% off as well
022 Sunset Peach- This is the other one I got with the BOGO
AHH these colors are amazing and the lipglosses are REALLY nice!! I think I like their lipglosses more than some of MACs. They are not sticky and feel really nice on my lips.
Next, I got a loreal HIP duo for 75% in 807 Poppy. This is a matte duo and I LOVE it. It is my first time trying HIP and they are so pigmented and blend so well. I may just get some more! Here are the swatches of the duo.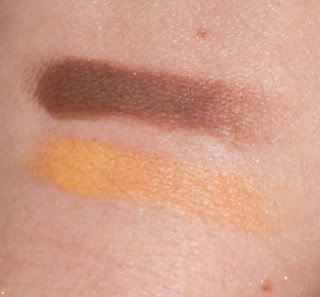 I also got the Revlon Color stay mineral foundation at 75% off. I have never tried mineral foundation and thought this would be a good chance to try it out. When I did try it as a foundation, I just did not like it. I need a medium coverage and this covered NOTHING! However. I used it as a setting powder after my MUFE HD foundation and it worked great as that. It absorbed the oil on my face and didn't look cakey at all. So this is a winner for sure as a setting powder.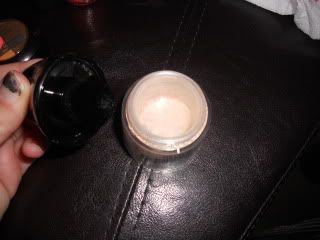 SOO I really didn't NEED any of this stuff but I honestly had a BLAST buying it all and I think I found some really great things. I already did a FOTD with some of the stuff and I will be posting it soon.
Have you tried anything at Kohl's or made a surprisingly good purchase lately?