RUN
to
Temptalia
to see all the swatches and photos of MAC Venomous Villains Collection.
She got to go to an early press release of the collection and has all four villains collection on hand. The collection is scheduled to be released in the US on September 30. I put all the links to each collection below the picuture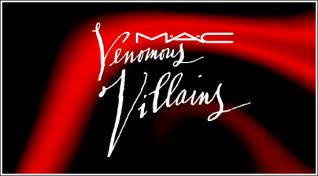 CHECK OUT THE WHOLE COLLECTION
HERE
with must haves, nice to haves, and skips
EVIL QUEEN COLLECTION
HERE
CREULLA DE VIL COLLECTION
HERE
MALEFICENT COLLECTION
HERE
DR. FACILIER COLLECTION
HERE

Even though I am not crazy about the packaging, this is my PENDING WISH LIST:
Toxic Tale L/S from the Evil Queen Collection
Vile Violet E/S from the Evil Queen Collection
Bite of an Apple Blush from the Evil Queen Collection
Sweet Joy E/S from Cruelle De Vil Collection
Bed Fairy Nail Polish from the Maleficent Collection
French Quarters Grease Paint Stick from the Dr. Faciler Collection
These are all the dupes she mentioned:

Skip DEVILISHLY STYLISH if you have LOTS OF NUDE GLOSSES; it's a nice champagne nude gloss, but there's nothing particularly unique/different about it that makes it a must-have amongst nudes.


SWEET JOY if you have DREAMMAKER, CREME ROYALE, CREME DE MIEL. They are all very similar–pale, light yellow gold with a frosty finish. It has a lovely finish, but you may already have something like it in your stash.


DE-VIL if you have COPPERING. They are incredibly similar.


HER ALTER IMAGE if you have BEAUTIFUL IRIS — if you're on a tight budget. They do differ noticeably, but it's not a significant difference. It's skippable if you have the latter, unless you're a fiend for pale purples.


VAINGLORIOUS if you have STAR VIOLET. They're pretty similar.


SHE WHO DARES if you have BLUE FLAME and you're ONLY interested in the blue side–the green side is not dupeable by Blue Flame (or any of the Style Black eyeshadows).


FORMIDABLE if you have ORLY GALAXY GIRL. They are exactly the same. ORLY is $10, MAC is $13, but MAC may be more accessible for some. You can't go wrong either way–the product is fantastic.


MEAN & GREEN if you have ORLY SPACE CADET. Same reason as above.

YAY!!! WHAT DO YOU PLAN ON GETTING??