I got this palette in an international swap that I did on MUA. This palette traveled all the way from the UK to my home in CT. Quite aways, huh?
The palette is amazing and it is also LE..so get it while you can! I can not believe it is a drug store product in the UK! I wish the US would have better pigmented eyeshadows in our drugstores. The closest we have is NYX, but that is not sold in any drugstores in CT.
So on to the palette...these colores are bright, mostly pigmented and very little fall out. There are a few matte colors in the palette, and those are the chalkiest, with the least amount of pigmentation, however, you can get them to show up if you use a primer and a white base, such as NYX Jumbo Eye Pencil in Milk and pat, don't rub or swipe the color on. The least pigmented ones are the matte white and matte light purple/ lilac color, they took A LOT of layering just to get them to faintly show up (but with a white base they show up great!). The shimmer colors are the ones with most pigmentation. The goldish/yellow/green color and the dark blue color (both in the bottom row) are amazing!!
The packaging is very colorful and bright, I love the colors in it, it is defiantly eye catching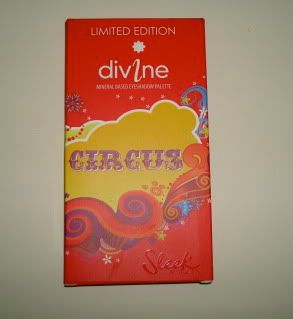 The shadows come in a very bight red case
There are twelve brightly colored shadows to play with!
Swatches..sorry..they are not in order
Top row: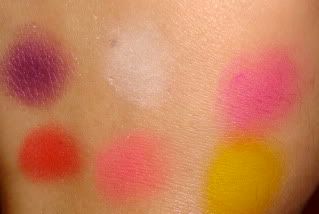 Bottom row..my faves are two last two on the bottom row of my hand: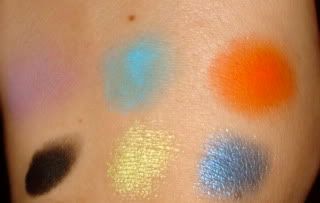 AND if you don't have any UK friends to send you over some sleek products, they now have an on-line site and they do ship internationally. You can check them out at
SleekMakeup.com
. The Circus palette is $10USD on the site, which is not bad at all.
LOTD with palette is coming tomorrow!!!