YAY!! My
Sally's Beauty Supply
stuff finally came!! I also got a few things at the West Farms Mall in CT. I love reading other people's hauls, so I hope you enjoy mine! I am so excited to try everything out!
Just FYI, I am Sally's Beauty Club Member, (which you can learn about
here
) so all my items had an added discount to them and I used a coupon (which I will share at the end of the haul). Let me know if there is anything in particular you would like me to review and I will try that one first.
Now on to the haul...
So this is everything I got!!!
This is Sally's GVP (Generic Value Product) Shampoo and Conditioner. I heard a lot of good things about these. They are suppose to be just as good as the name brand hair care but at cheaper cost.
I got the GVP Paul Michell Awapuhi Shampoo and the GVP Paul Mitchell The Detangler. Each one cost $5.49 for a 16oz bottle.
I buy all my hair dying supplies from Sally's. It cheaper and much better for your hair than the boxed dye at the drugstore.I mix my dye into a bowl and apply it with a brush, but after a handful of uses, the bristles seem to go all over the place, so I bought 2 replacement brushes ($1.19each). I also ran out of developer, so I bought a big 32oz bottle of volume 20 Salon Care developer for $3.99, this bottle will last me a long time! I also switch up hair dye brands, since I only use it to touch up roots, so this time I bought two Clairol Tone Creme Color Gel in Black for $5.49 each, which will give me four root touch up applications.
I went nail polish crazy!! The China Glaze was on sale for $2.99 with my Sally beauty club card, so picked up a few nice colors for the fall.
From left to right is Camisole, That Away, Lubu Heels (which is actually black with red sparkles), Ruby Pumps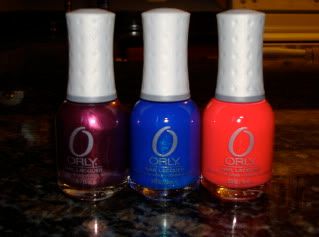 Then I got some Orly colors. These were a little expensive at $5.46 each, but I thought the colors were beautiful!
From left to right is Close your Eyes, Royal Navy and Terracotta (which is actually an orange color, but looks bright pink with my flash..hmmm)
I also got a 8oz bottle of acetone for $1.79 (mine was almost done), a glass emery board for $6.99 (I have heard that these are great, so we will see) and Palladio Rice Paper Powdered Blotting Tissues for $2.99, which I am VERY interested in trying..it got good
reviews
, so we will see!
At Sally's you get free shipping if spend over $50..my whole order came to $53, so I got the free shipping, my Sally's Club card took some money off each item and I used a 20% off your entire order coupon code, which I will share with you all!!
To receive 20% off your entire order use 555943 in the coupon box at the checkout. This coupon expires Aug 31
ALSO..I went to Sally's last Thurs to kill time between my DR apt ( I new eye glasses!!) and I found this dupe for the Paul Mitchell Super Skinny Serum, which I LOVE and was running out of. The GVP Paul Mitchell Super Skinny serum is 6.1 oz and was $7.50. The regular Paul Mitchell Super Skinny Serum is 5.1oz and is about $16. To me, there is no difference in color, look, feel and even smell between the two (as you can see in the pic below)!! Which is amazing because one of the reason's I love the PM Supper Skinny Serum is because it smells sooooo good!!
My sister also uses PM Super Skinny, and when I showed her this generic version, she told me that it did not smell the same and it was thinner!! I was like "what!!!" your crazy..it smells the SAME and FEELS the same!! So she told me to give her a blind fold and she was certain she would be able to tell the difference. So I did..she smelled and felt both and thought the generic version was the real one!! HA HA!! She was wrong!! There is really NO difference between the two.
I also went to the free standing MAC at the West Farms Mall in CT...I LOVE the customer service there and I got these two lippies (one of them I got for free with B2M program) and a lip gloss. Also, I don't know if anyone else noticed but all lippies, eyeshadow pots and lip glosses went up in price by .50 cents, so they are all $14.50 now.
L to R: Velvet Teddy (matte) and Up the Amp (amplified), Nymphette l/g
Then I went to LOVE 21 (Forever 21 accessories store) and got some new socks for the fall..I love funky socks and a pair of earrings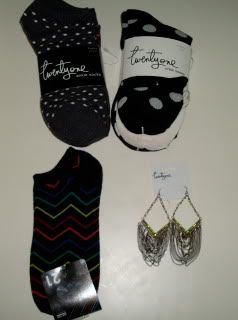 THEN I went to the VS PINK store and got a Patriots shirt for when football season starts. My whole family loves the Patriots..I can not wait till football season starts!! I also got a PINK water bottle too :)
I hope you enjoyed the haul!!