Since this is a health blog too, I thought I would share with you the vitamins I take on daily basis. I get all my vitamins from iherb.com or Costco.
I take a total of five to six vitamins a day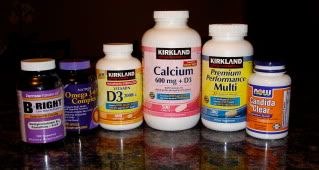 Starting from the left:
Jarrow Formula B-Right, B-Complex- I purchased this from iherb.com and it a vitamin B12 supplement. I do not take this everyday, but I do take it on days that I feel sluggish or on days that I feel that extra stress is just piling on me. It works great and I can really feel the difference it makes on my body when I take it. When you take a B12 vitamin, it does turn your urine a neon bright yellow, but no worries, it is normal. That is how your body gets rid of the excess B12 in your body
Natural Omega 3-6-9 Lemon Flavor- I purchased this from iherb.com and I love it. I have been using this for a little over 6 months and my hair, skin and nails have been looking great. It also has great for your heart and cardiovascular system as well. Since this is lemon flavor fish oil, I never burp up a nasty fish taste. It is also a big pill, but it is a gel capsule, so it goes down easy
Kirkland Vitamin D3- I bought this at Costco. I had blood work taken about a year and the Dr. told me I was vitamin D deficient and since then I have taking a Vitamin D supplement. I am not out in the sun a lot, nor do I drink a lot of milk (which are your two big vitamin D suppliers).You also need vitamin D to absorb calcium in your body, if you do not have enough of it in your body, your body can not absorb the proper amount of calcium, no matter how much calcium you intake. Since taking this supplement, I am no longer vitamin D defiant!
Kirkland Calcium- I got this at Costco's as well. This is great to take because I am not a huge milk drinker or yogurt eater and it is very important for women to get the proper amount of calcium for our bones.
Kirkland Priemium Performance Multi- I got this at Costco and it is a multi vitamin with some herbal supplements in it. It honestly taste GROSS!! This is not my favorite vitamin!
Now Candida Clear- I got this at iherb.com and it is comprised of oregano oil and black walnut oil. It is suppose to help prevent yeast infections. Due to my birth control, I have been yeast infections and this helps, but it doesn't prevent them 100%.
I store all my vitamins in the 6 in 1 vitamin dispenser that I got from amazon.com
This is very convenient because all my vitamins are in one place, together. There is no unscrewing six different bottles, everything is in one place and labeled. It was $8 with shipping and the link for it is here:
http://www.amazon.com/Apothecary-0000-Vitamin-Dispenser-Sections/dp/B002LMWTEK/ref=sr_1_2?ie=UTF8&s=hpc&qid=1279171999&sr=8-2
BTW..my sister HATES swallowing pills (she is 21) but she loves taking these!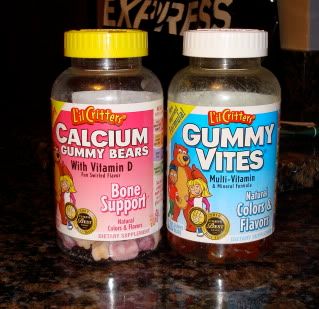 I get them at Costco's for her and she takes them everyday. I had tried them and they do taste very good. I would advise you to keep the bottle away from young kids because they may think that they are candy and want to eat the whole bottle!! I know my 6-year-old cousin did!