So far I think this is my favorite MAC collection this year. Everything I got, I love and I could see myself wearing it on a daily basis. This this is what I got: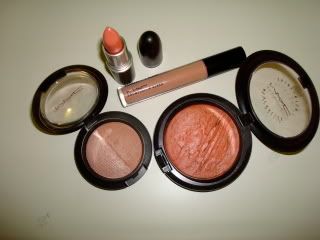 Jazzed l/s, Fashion Whim Creemsheen l/g, Happy Together Mineralized Blush AND...dun dun dun...Stereo Rose MSF! I was so excited about this..I ordered it 6 min after it launched on the MAC website. I know it sounds crazy, but I missed out on Marine life and I was so upset, so I made it my mission to get this MSF!! I also have By Candle light MSF, which is gorgeous, but I got that from the Warm and Cozy Collection.
Here are the swatches:
On top is Jazzed l/s, Fashion Whim l/g, Jazzed l/s with Fashion Whim l/g on top (luv that combo!)
This is Happy Together, starting from the left is the two color mixed together, then the brown shade, then the pinky sheer color..these colors are great alone and mixed!
AND this is Stereo Rose...soooo pretty and I am sooo happy mine has minimal veining in it (as you can see in the first pic) because the veining is what hold all the glitter and the less glitter the better for me!
I also did a LOTD with most of the products that I had previously posted, but I'll post another pic so you can see it all together.
Enjoy!! HTH and let me know if you got anything from this collection