I needed some serious organiztion for my everyday makeup. I used this makeup everyday and because of this I never put it away properly in my makeup drawers, I would always just leave it on top of my dresser and I was tired of looking it all messy. So I went to Target on a mission and I found what I was looking for!
It is the
Caboodles Cosmetic Cutie Organizer
and I paid $13.49 for it at my local Target, but it is online too! Check it out....I filled it up perfectly!!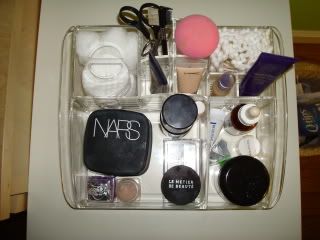 My daily makeup face products are to the left and my daily skincare items are to the right. Primers and concealers in the back with my beauty blender (love this!!) and my eyebrow care station (tweezers, eyebrow sissors, and brush) I also had room for q-tips, cotten balls and cotten rounds. Everything I use on daily basis fit perfectly..I love it!