I have been making this brush cleaner for a while now. It works great and it's easy to make.
All you need are the ingredients below, a measuring cup, and bottle to pour the ingredients in!
I got the alcohol, baby shampoo, leave in conditioners and empty bottle at target
I got the distilled water at CVS and the dish soap at Costco
Mix the following ingredients together in a large container:
- 1 cup of distilled/purified water
- 1/4 cup of 70% isopropyl alcohol
- 1/2 tbsp dish soap (I used Joy)
- 1/2 tbsp gentle shampoo (I used baby shampoo)
- 1 tbsp of leave-in conditioner (I used Sauve Detangling Spray in Double Dutch Apple..it smells sooo good!! LOL)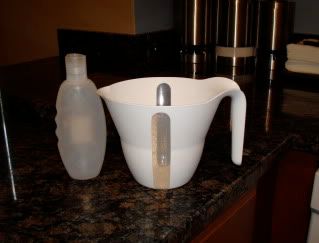 Gently stir to prevent suds from forming (I just stirred it up with the tablespoon I used for measuring) and transfer into a bottle that will allow for easy dispensing of the cleaner.
I try to clean my brushes everyday with this cleaner after I use them and I try to "deep" clean my brushes with baby shampoo about once a month.
This is what is looks like all mixed up:
And this is what it looks like in the bottle, it is clear but if you want it to have some color just use a colored dish soap, some people like to use pink dish soap so that it looks like the MAC brush cleaner: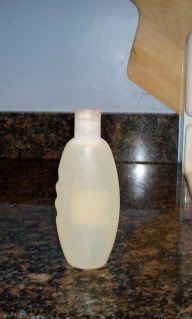 AND Viola! your done!
Here is the link to Enkore's brush cleaner video as well:
http://www.youtube.com/watch?v=2FwklwLsSSg