I LOVE Express! It is one of my fovorite places to shop! I just got an email today telling me that all Express jeans are 30% and the sale starts on-line only today and then the jeans will be on sale in the stores tomorrow.
You can go
here
to check out all their jeans.
I got there Rerock jeans..since I have heard such great things about their fit. I am a curvy gal, smaller on top, with a booty and some hips, so good fitting jeans are REALLY hard for me to find.
These are the jeans I got: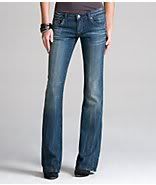 REROCK BOOT CUT JEAN - MEDIUM WASH
I can not wait till I get them!! I will definatly let you know what I think when I get them when they come in!
AND WAIT..I have a BONUS for you all..I have a coupon code to share.
Use 1114567156007349 at the check out and get $50 off $150, $30 off $100, or 15$ off $30
Happy shopping ladies..let me know if you get anything!