So this is the start of the NYX to MAC dupe series. A few posts ago, I put up a NYX to MAC
DUPE LIST
. I thought it might be fun to see how close of a dupe these products were to the real thing, so I bought the NYX dupes for the MAC shadows that I already own in hopes of seeing if there was any differance.
PLUS, I'm the kinda gal that needs to see it to believe it, so this helped me too :)
By doing these swatches I was also surprised to find that I liked some of the NYX colors and pigmentation over the MAC ones, but that will discussed in future posts.
Now..on to the BATTLE!!
CAN YOU TELL THE DIFFERANCE?
DO YOU WHICH ONE IS NYX RUST AND WHICH ONE IS MAC CRANBERRY?
NO PEEKING
IF you thought MAC Cranberry was to the left and NYX Rust is on the right..THEN..you..were RIGHT!!
They look VERY similar don't they?? MAC cranberry is a bit stronger in pigmentation, but NYX rust is much easier to work with and apply
Here they are in the pan, they even look very similar in the pan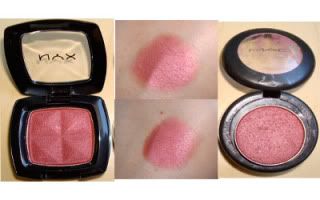 NYX rust swatch is on the top and MAC cranberry swatch is on the bottom
SO what do you think? More colors to come soon :)