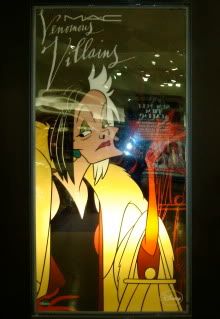 I attended the Venomous Villains preview party this past Tuesday and it was a lot of fun. It was insanely crowded and I think every MAC worker was there!! They had servers walking around serving alcoholic drinks and food (which was actually really good). I was told that for my MAC, they only do these release parties once a year, so I was so happy I got to go to this one! I tried to take as many pictures as possible for everyone, but it was tough because it was so crowded and everyone was of course the most interested in the new collection, so their were swarms of people around it.
ALSO..BELIEVE IT OR NOT, SOMETHING ACTUALLY SOLD OUT!! Can you guess what it was? I really wanted it too!! I'll let you know at the end of the post
ON TO THE PICS of the EVENT!!
This is when I first got there..you have to wait in line till your appointment time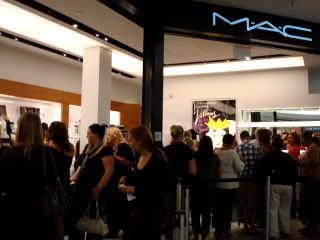 Once they let you in, they give you this card to fill out, to them know what you want from collection. I thought this was pretty cool.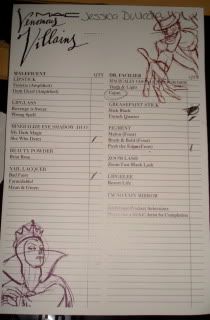 Inside they had the collection set up on two ends of the store. These pictures were from one end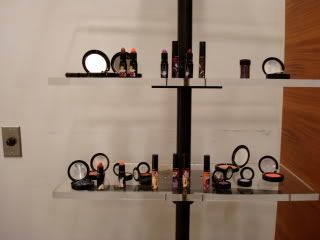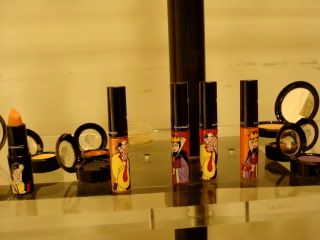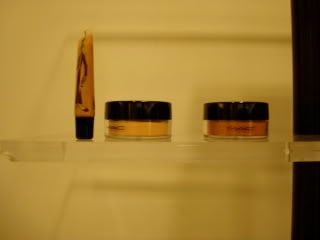 AND these pictures were taken from the other end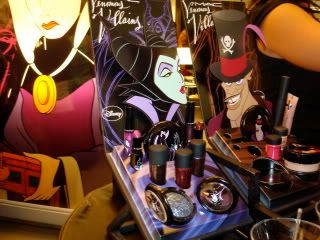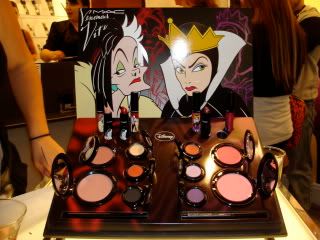 ALL the MAC workers were wearing the makeup from the collection and it looked so beautiful on them and they gave me so many new ideas. Also all the workers were so nice and super helpful.
After you gave them your card and paid for everything, they had a dress up center outside the store, where you can dress up as Cruella and the Evil Queen. I thought it would be fun, so here are my pics..LOL :)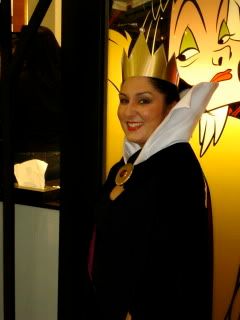 haha..I look to happy to be the Evil Queen!!
REVIEW
I just wanted to give you all my honest opinion of the collection and what I thought of it after actually looking at everything and swatching it.
The overall collection is A LOT nicer than I thought. Some things that I actually wanted, I ended up not getting because of the swatches and some things I never thought of getting, I ended up getting once I saw it in person.
I really wanted Vile Violet ES from the Evil Queen collection and My Dark Magic MES from the Maleficent collection, but honestly, the pigmentation and swatch was nothing to brag about and I was really disappointed in them, because just by looking at them in the pan, they are really gorgeous. I was just disappointed in general with the eye shadows, the all looked dupable to some extent and didn't grab me at all. OH and the magical cool liquid powder is WHACK! Sorry to say it, but it not worth the money for some slight shimmer, that you can get from any other highlighter or bronzer.
The lipsticks and lip glosses were great in the collection. The nail polishes ROCKED! They were gorgeous and I loved the two blushes.
The beauty powders were okay... they were nice but for the price, I would defiantly choose the blushes over the beauty powders. OH and FYI..I know A LOT of people don't really know what a beauty powder is, so I will tell you. Depending on the color and shimmer factor, it can be used as a blush, highlighter or all over shimmer. HONESTLY it is a pointless concept to me and is a way for MAC to get more $$$ from you, because a blush is $18.50 and a beauty powder it $28. I always treat them as blushes, so I would rather save the cash and get the blush, UNLESS there is a color I HAVE to have.
WHAT I GOT
Maleficent Collection
She who Dares MES
- This MES duo is beyond gorgeous! I was not planning on getting this, but once I swatched it, I HAD to have it!! The color is intense and looks amazing on top of the French Quarter Greasepaint Stick
Bad Fairy Nail polish
-This is a beautiful orange-red-gold duo-tri chrome (however you want to describe it lol) and the only color that is not dupeable by the new Oraly nail polishes
Dr.Facilier
French Quarter Greasepaint Stic
k-Gorgeous black base with silver sparkles
Crudella
Heartless LS
-Amplified true red color. I think this color would flatter everyone and because it is amplified it applies and covers like a dream
Wicked Way LG
-Red lg compliments Heartless and is pigmented enough to wear alone
Evil Queen
Toxic Tale LS
-Satin Orangey red color, lighter than Vegas volt and the color will change depending on the pigmentation of you lips, so try it on before you buy it. A lot of the MUA were wearing this and it looked different on all of them
Strange potion LG
-Compliment Toxic Tale, looks very similar to pret-a-paper lg. I will do a comparison in my next post when I do my swatches
Bite of an Apple Blush-
This is soo pretty and gives such a beautiful glow. It has no shimmer and comes off pretty matte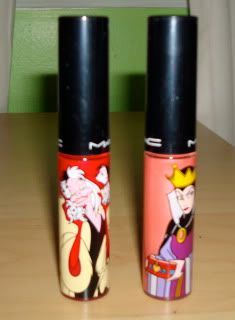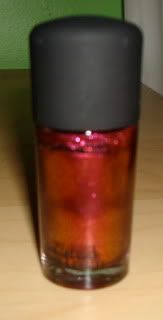 Bad Fairy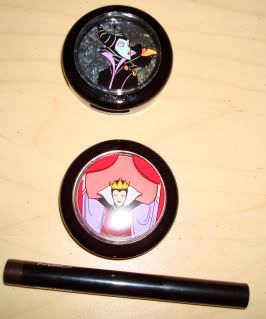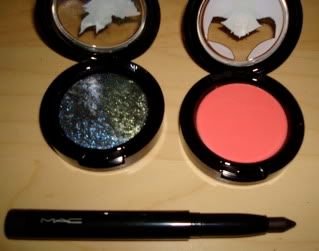 She Who Dares MES, Bite of an Apple Blush, French Quarter GPS
\\
Heartless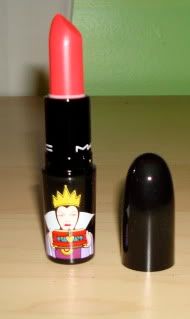 Toxic Tale
PHEW!! That was a lot! I really hope this was helpful..OH and did you guess what was sold out??
It was Push the Edge pigment!! yeah..I was shocked! SOLD OUT within in a HOUR and I REALLY wanted it, once the MUA swatched it for me. It is so beautiful.
I think once the collection releases I am going to pick that up and Darkly My Dear blush..I wanted it and I have no idea why I didn't pick it up!!
So tomorrow I will post a look inspired by the looks I saw on the MUA at MAC and I hope to have swatches and dupes up for you by Monday.
So what do you plan on getting?? LMK
AND if you have any questions..Please..ASK AWAY!!
OH and I was just reminded by another blog that Hautlook is having a HUGE NYX SALE!!! There are a lot of their palette sets and lipgloss sets up there at a discounted price. I'm broke from this haul, but hopefully I can catch the sale another time, but I wanted to pass it down to all of you.
YOU can sign up to preview and buy from the sale
HERE