YAY! I recieved my 88 Metal Mania Palette! I played around with it a little and I like it. I like it A LOT more than the 88 Shimmer Palette..which was all glitter and shimmer (but duh!, hence the name of the palette..LOL) I really like the sheen, metal like finishes to these shadows, some have more shimmer to them than others, but it is not as bad as the shimmer palette.
ALL these colors are pigmented and gorgeous..I really like the color selection in palette, I think it has a good amount of brights, neutrals, and smokey shades in it. I even did a smokey purple eye for a MUG inspiration pic (which I will post soon) with it and it came out ok (not because of the colors but because I do not have a lot of confidence with smokey eyes yet), but the girls on MUG really liked it.
When I used the shadows, I did not experiance any fall out of glitter or shimmer on my face. Also, every shadow was smooth, not one of them felt chalky or to soft and it was not hard to apply or swatch.any of shadows.
Also, if you want to try this palette out for yourself at
Sedona Lace
, don't forget you can use coupon code
RENREN
at the checkout for $4.00 off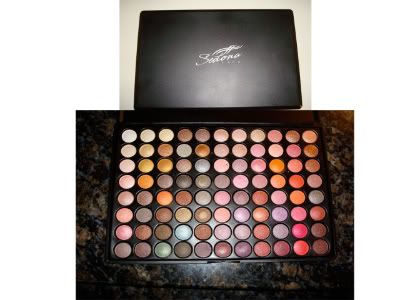 Sorry the some of the swatches look so shiney..I did them all on the same hand and some of the sheeness stayed behind! I should have cleaned my hand better..sorry..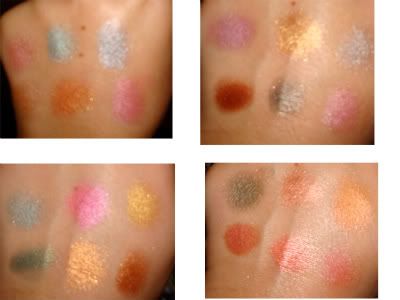 I know..my swatches SUCK..it is hare to capture sheen and shimmer, however A Brillant Brunettes swatched all 88 colors beautifuly, so check them out on her site
HERE
AND A QUICK EOTD with the palette