I swear I have no idea how I find such amazing people on MUA!!
YUP!! That's right! The SAME talented gal that makes the awesome
lippie holder
, now makes home made makeup brush rolls. They are gorgeous and what I have always been looking for! I have always wanted one of these to store my makeup brushes in and I also wanted a way that I could travel with my full sizes brushes without ruining them
Theresa has a blog,
The T Collection
, where she plans on doing future give aways of her lippie holders and makeup brush rolls. She makes a ton of other things as well, which she displays on her blog, so you should follow her so that you don't miss a thing! She is also always open to swaps on MUA under the name teresaellis (she loves to swap for MAC!!)
AND she just opened up an etsy store as well!! You can check it out
HERE
and she sells handbags, aprons and her lippie holders on their too! She is just sooo talented. I can not get enough of her!
ON TO THE MAKEUP BRUSH ROLL
This how it looks closed and empty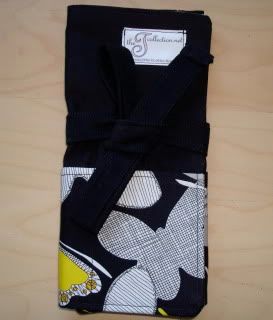 I love that it has a pocket in the front. You can slide in a blush or eyeshadow compact.
Opened
Close up of the fabric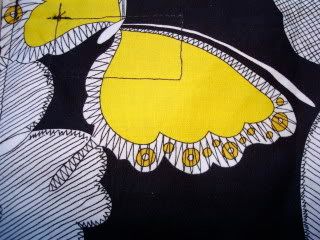 Back-it has four pockets in the back (including the one in the front, when it is rolled up), which could be filled with something small and flexable, maybe some cotton pads or oil absorbing sheets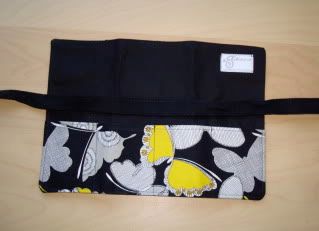 Her own label! I'm so proud of her!
Filled
Closed, filled with all the brushes and the NARS duo in the front pocket.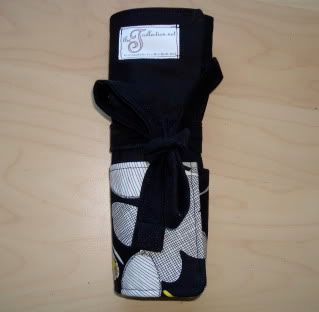 Her business card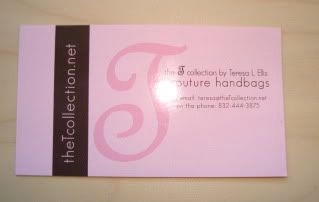 OVERALL
This makeup brush roll is everything I had hoped it would be. The fabric is very sturdy and thick, as well as the stitching. This could defiantly hold up a wash in the washing machine if it got dirty.
It fits 10 brushes perfectly, closes and ties up with ease. I also REALLY like the bonus extra pockets in the front and along the back. It is great for extra storage, like tissues, q-tips, or cotton balls
The brush roll is beyond PERFECT for travel and even everyday storage use.
If you like what you saw, check out Teresa's store
HERE.
She makes them in many different prints and colors, so hopefully you will find one that fits your personality.